---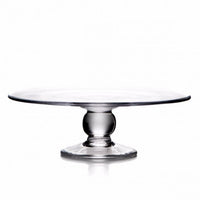 Handmade by a duo of master glassblowers working in tandem, each iconic globe-and-stem design is a testament to the power of teamwork and tradition. A sweet wedding gift, the Hartland Cakeplate's traditional, elegant design is befitting of festive cakes and everyday cookies.
Handmade by Simon Pearce glassblowers using centuries-old techniques.
Matching Hartland Dome sold separately (item 1410).
Dimensions : 4¼″ x 12¼″
Materials : Glass
Made In : USA