---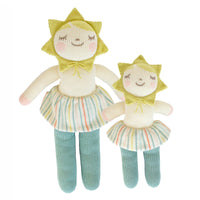 Nova is a bright little star who shines in the night-blue sky. She holds the hands of little ones who travel far away in their dreams and brings them back home before the robin sings. A cheerful doll for a sweet addition to any child's room. Nova will brighten up the mood and bring a bit of sparkle into your life. Plus, you'll support a small business and local artisans who craft unique products with love and care!
100% cotton
Designed in the US | Handmade in Peru
Large 18" | Small 12"